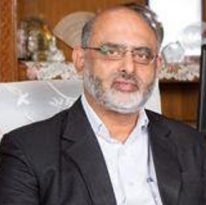 Prof. Bipin Nair
Dean, School of Biotechnology, Amritapuri
Dean, Faculty of Sciences
https://www.amrita.edu/faculty/bipin
Prof. Nair received his Ph.D. in Microbiology in 1986 from the Department of Microbiology, M.S. University of Baroda, India, and received his post-doctoral training at the University of Tennessee, Memphis, USA, in the Dept. of Pharmacology from 1987-1992. His major contributions during that phase were in the areas of growth factor receptor signaling, GTP binding proteins, and second messenger pathways.
Dr. Nair then moved to the Biotechnology industry in 1993 and held the position of Senior Scientist- Lead Discovery at MDS Pharma Services in Seattle, Washington, USA. His experience with High Throughput Screening and application of novel technologies to a wide range of target areas resulted in many significant achievements for MDS during his tenure as Research Manager — Lead Discovery, at MDS Pharma Services.
In 2004, Dr. Nair moved back to India and took over as Professor and Chairman of the Centre for Biotechnology, Amrita Vishwa Vidyapeetham, Amritapuri Campus.