Sci-Art Contest @
Sci-ROI 2021 annual event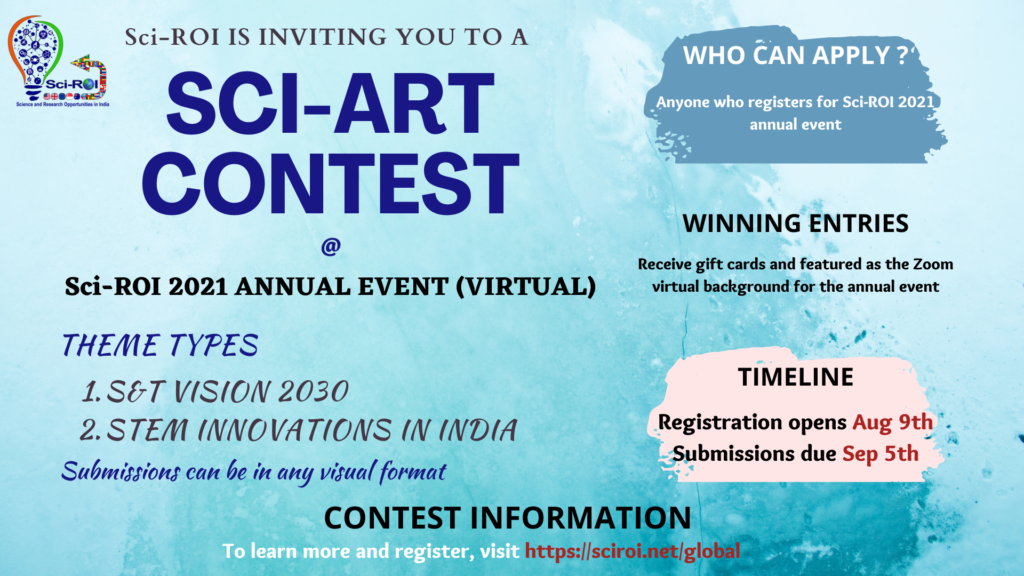 UPDATED DEADLINE FOR SUBMISSIONS: SEPTEMBER 12, 2021
WHAT IS IT?
Sci-ROI welcomes all scientists to unleash their artistic side in a Sci-Art contest being held at the 6th Annual event. This is an excellent opportunity to explore your creativity and bring your unique perspectives to life.
Your scientific and artistic insights will be recognized worldwide through our social media platforms. Winning entries will be used as the virtual Zoom background during the annual event and receive gift cards.
The contest will have two theme types-
(1) STEM INNOVATIONS IN INDIA: Bring to life through your art a significant advancement or achievement in Indian science in the last 10 years.
(2) S&T VISION IN 2030: What does the future of science and technology look like to you in 10 years? Show us with your art.
WHO CAN APPLY?
Anyone registered for Sci-ROI 2021 annual event
Registration and application process will start on August 9th
GUIDELINES FOR Sci-Art
(1) You can submit one image per theme. You can apply for one or both the themes. If multiple images are submitted for one theme per person, only the first one submitted will be chosen.
(2) Entries should be in the visual medium. Broad categories will include paintings, illustrations, digital photographs and collages. You can also use your scientific images (experimental/simulated) creatively.
(3) A 10 word (maximum) caption and a 50 word (maximum) write-up to explain the image in layman's language should accompany it.
(4) Acceptable file types- JPEG/PNG/TIFF/PDF. Minimum resolution 300 dpi. Maximum file size of 10 MB per image. Name your entry as 'LastName_FirstName_ThemeType'.
(5) Entries may have your logo/signature as a watermark for maximum recognition.
WHO ARE THE JUDGES?
Dr. Radhika Patnala
Visit her at www.sci-illustrate.com
Dr. Ipsa Jain
    Visit her at http://ipsawonders.com
Follow/Contact her on Instagram (ipsawonders)
PRIZES
(1) Images will be judged based on the creativity and vision.
(2) There will be two winners per theme- (1) Judge's Choice & (2) People's Choice.
(3) Winners will be announced during the annual event.
(4) Each winner will be awarded a gift card and their image will be converted to a Zoom virtual background for our annual event.
HOW TO APPLY?
(1) Registration and Submission Portal will open on August 9.
(2) While registering for the Sci-ROI annual event, you will be asked whether you would like to participate in the Sci-Art competition. If you say 'YES', you will be sent a link to submit the relevant image and details.
(3) Submission portal will close on September 12.