3/25/2022: Watch the recordings of Sci-ROI@India Virtual launch Event HERE
3/15/2022: Sci-ROI@India ReAct Program has opened calls for Mentors and Mentees. Lear more and Apply HERE
The event is NOW OVER. Check out the recordings from the event HERE.
Sci-ROI@India is excited to announce a virtual launch event during February 18-19, 2022 for young Indian STEM professionals from all over the world.
We aim to introduce our programs and events catering towards the major focus areas of Sci-ROI@India during this launch event , i.e. collaboration, mentorship and scientific discourse that enables successful launch of early-career researchers in Indian STEM. 
Top experts from the Indian scientific community will attend the event to assist early-career scientists gain more insights on research, funding, collaborative, mentorship opportunities in various STEM sectors in India. Panel discussions will be supplemented with multitude of pre-recorded talks and breakout rooms for networking! Early-career STEM professionals in India will also get a platform to showcase their work in any field of STEM in both academic and non-academic areas.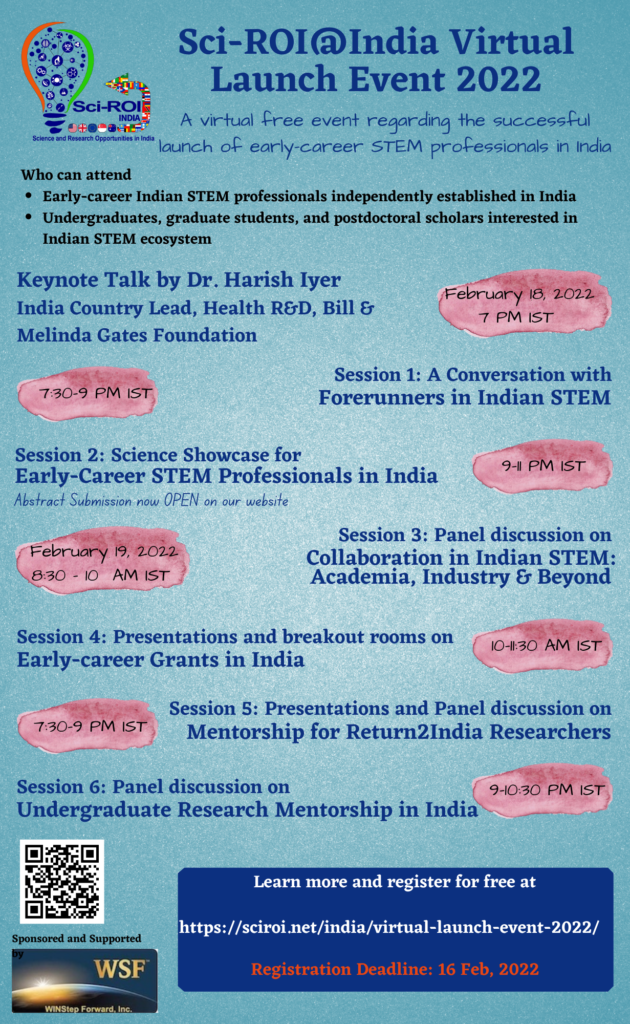 Sci-ROI@India (sister program of Sci-ROI Global, i.e. Science and Research Opportunities in India) is a dynamic and upcoming network of STEM Professionals in India, and acts as a gateway for young professionals all over the world to affect change and contribute to the knowledge economy in Indian STEM sectors.
To facilitate cross-sector partnerships and networking in India, we are launching a collaborative database that will capture the information from all current and independent STEM professionals in India who would be willing to have potential collaborations with academic, industrial, non-academic or non-profit partners.
We are hosting regular panel discussions for a webinar series titled 'Evolving trends in Indian STEM' and will be focusing on key issues that are relevant to the progress of the Indian scientific community.
Our Vision
Enabling successful launch of early-career STEM professionals in India