Sci-ROI@India Virtual Launch Event 
18-19 February, 2022
EXTENDED DEADLINE: 26 January, 2022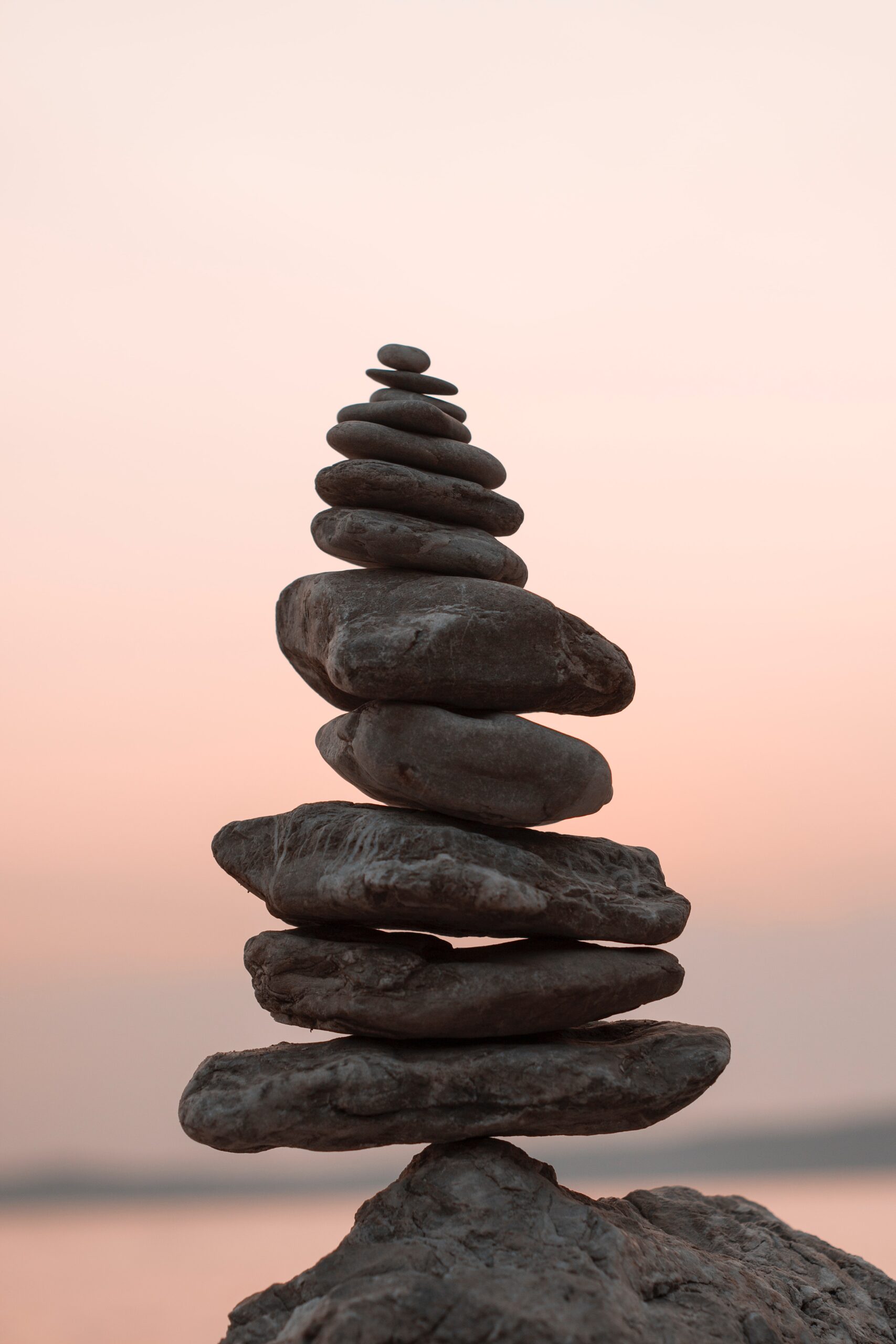 Sci-ROI@India is excited to announce a virtual launch event during February 18-19, 2022 for young Indian STEM professionals from all over the world.
We aim to introduce our programs and events catering towards the major focus areas of Sci-ROI@India during this launch event , i.e. collaboration, mentorship and scientific discourse that enables successful launch of early-career researchers in Indian STEM. 
Top experts from the Indian scientific community will attend the event to assist early-career scientists gain more insights on research, funding, collaborative, mentorship opportunities in various STEM sectors in India. Panel discussions will be supplemented with multitude of pre-recorded talks and breakout rooms for networking! Early-career STEM professionals in India will also get a platform to showcase their work in any field of STEM in both academic and non-academic areas. If you would like to showcase your work in the Indian STEM sector through a brief talk to potential collaborators, mentors, colleagues and students during our virtual event, please submit your abstract HERE by Jan 26, 2022.
REGISTRATION FOR THE EVENT IS FREE AND CAN BE DONE HERE. 
Early-career Indian STEM professionals who are trying to establish themselves independently in various STEM sectors in India
Undergraduates, graduate students, and postdoctoral scholars of Indian origin are also encouraged to attend to learn more about current trends in Indian STEM
Keynote Session on Feb 18, 2022 @ 7 PM IST: Dr. Harish Iyer, India Country Lead, Health R&D & Deputy Director, Digital and Health Innovations at the Bill & Melinda Gates Foundation
Dr. Harish Iyer is India Country Lead, Health R&D and Deputy Director, Digital & Health Innovations at the Bill & Melinda Gates Foundation, working in the India Country Office.
Dr. Iyer is deeply interested in the role of innovation, science and technology in improving public health & accelerating economic development. He is a strategic partner between Indian researchers, global partners and the Foundation's Global Health team in critical R&D work including in vaccine-preventable diseases, understanding causes of childhood mortality, new approaches to treating neglected diseases and life science partnerships.  Prior to his role at the Foundation, Harish was the CEO of Shantha Biotech (2011-2015). Dr. Iyer has also worked in various R&D roles in several biotech companies including as Head of R&D at Biocon, and in various technical roles at Biogen-IDEC and Genentech.
After getting his education in the USA and then working there for some time, he returned to India and contributed significantly to Indian STEM. Young researchers wishing to come back to India will benefit a lot from hearing about his journey, and researchers who are already back in India will get motivated by hearing about his contribution to Indian STEM.
Session 1 on Feb 18, 2022 @ 7:30 PM IST: A Conversation with Forerunners in Indian STEM
Panelists for the session:
Dr. Gagandeep Kang, Professor, Dept. of Gastrointestinal Sciences, CMC Vellore
Dr. Rohini Godbole, Professor, Center for High Energy Physics, IISc, Bangalore
Dr. Konkan Bhattacharyaa, Professor, Physical Chemistry, IISER-Bhopal
Dr. Somak Roychoudhury, Director, IUCAA
Dr. R. Nagarajan, Professor, Chemical Engineering, IIT-Madras
Session 2 on Feb 18, 2022 @ 9 PM IST: Science Showcase for Early-Career STEM Professionals in India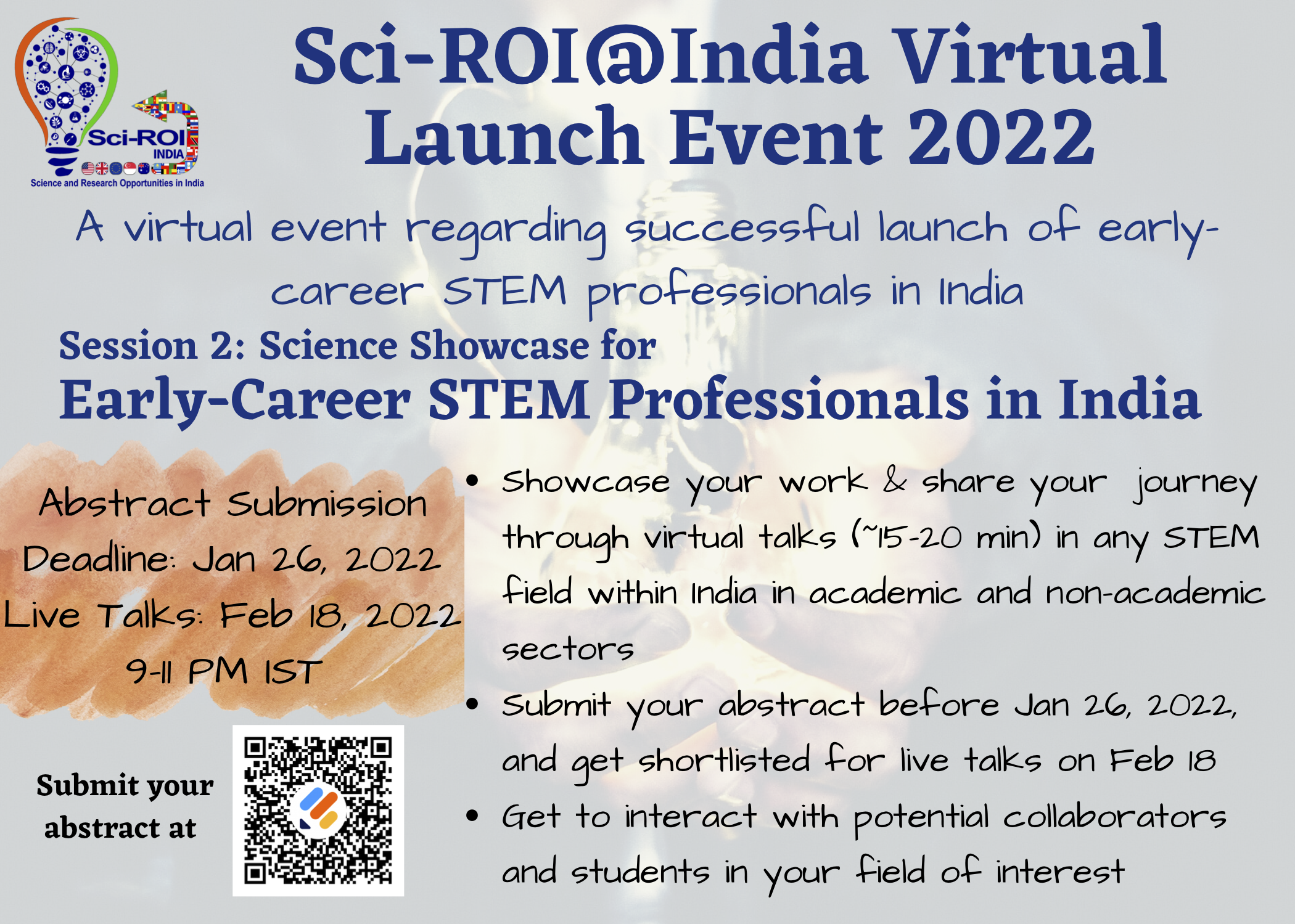 Session 3 on Feb 19, 2022 @ 8:30 AM IST: Panel Discussion on "Collaboration in Indian STEM: Academia, Industry & Beyond"
,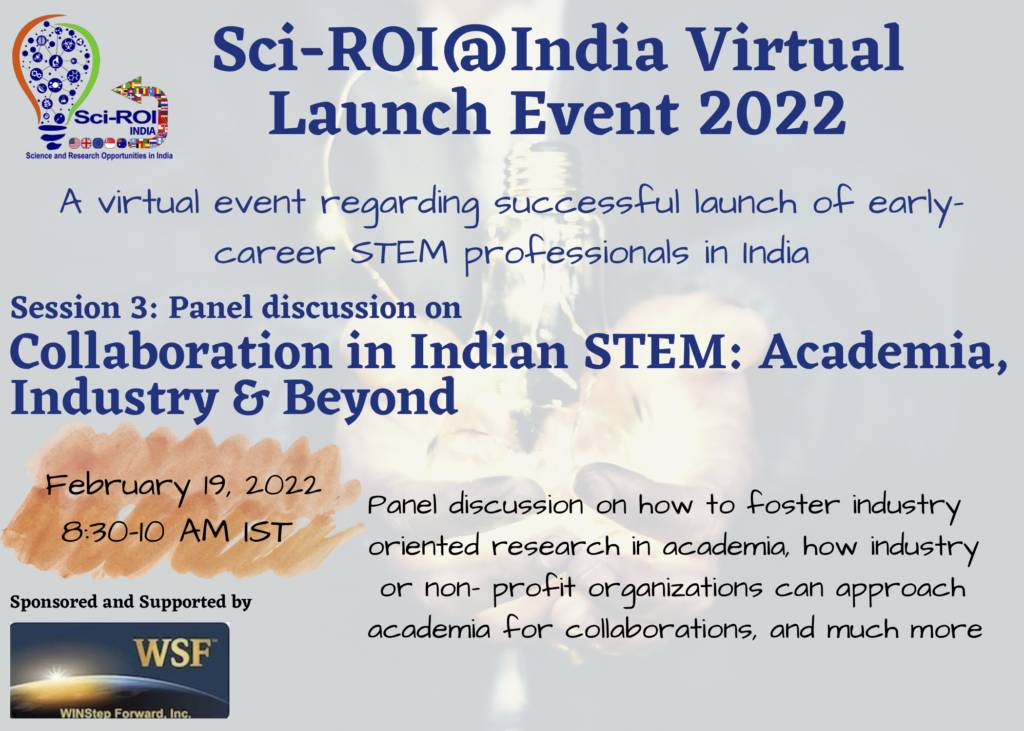 Panelists for the session:
Dr. Mirage Singh, Program Manager, National Biopharma Mission, DBT-BIRAC
Dr. Kavita Singh,
Director South Asia (India) at Drug for Neglected Diseases Initiative ( DNDi)
Dr. Ipsita Roy, Professor, Department of Biotechnology, NIPER
Ms. Kavitha Iyer Rodrigues, Founder & CEO, Zumutor Biologics
Session 4 on Feb 19, 2022 @ 10 AM IST: Pre-recordings, Panel Discussion & Breakout rooms on "Early-Career Grants in India"
c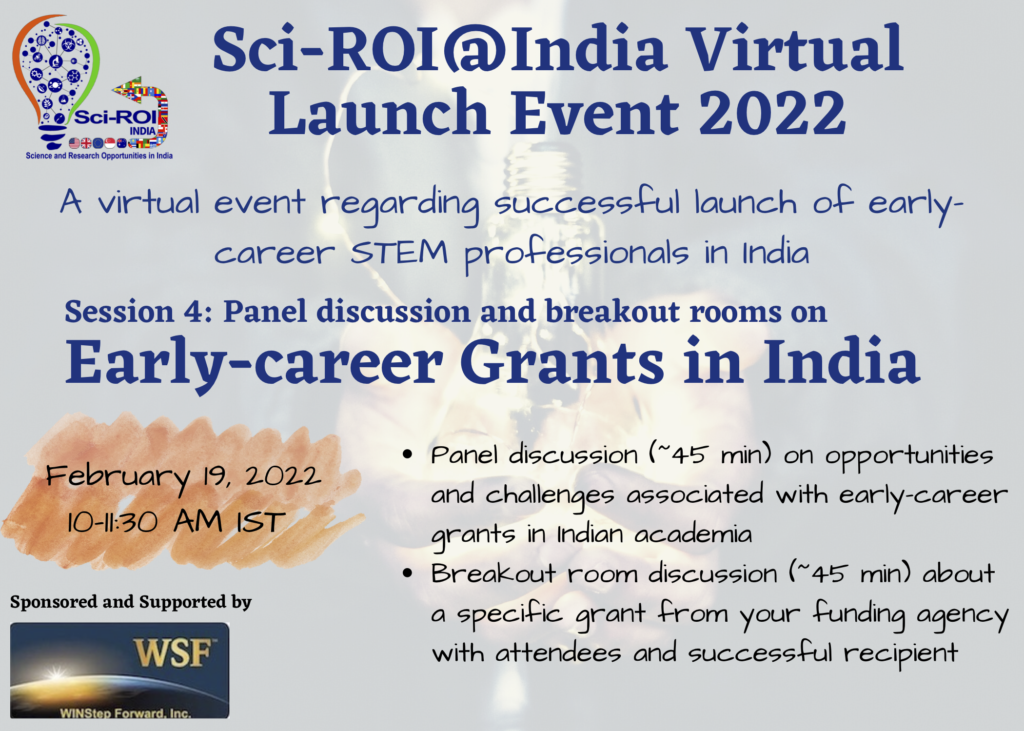 Panelists for the session who are early-career fellows:
Dr. Subashika Govindan, India Alliance Early-Career Fellow, IIT Madras
Dr. Atul Kumar, Assistant Professor, IISER-Bhopal (DBT IYBA awardee)
Dr. Ashutosh Srivastava, Assistant Professor, IIT-Gandhinagar (SERB SRG awardee)
Pre-recorded presentation with successful tips and strategies for SERB Start-up Grant
Dr. Kumardeep Chaudhury, Scientist, IGIB (CSIR Research grants)
Panelists for the session who are from funding agencies:
Dr. Madhavan Chalat, Senior Grants Advisor, India Alliance
Dr. T. Thangaradjou, Scientist 'F', Science and Engineering Research Board (SERB)
Session 5 on Feb 19, 2022 @ 7:30 PM IST: Live Presentation & Panel Discussion on "Mentorship for Return2India STEM Professionals"
Panelists and Speakers for the Session:
Dr. Meenakshi Munshi, Former Adviser/Scientist G, DBT
Dr. Poonam Thakur, Assistant Professor, IISER-Thiruvananthapuram
Dr. Raunak Bardia, Researcher, Shell India
Dr. Somasish Ghosh Dastidar, Assistant Professor, MAHE-KMC
Dr. Darshana Joshi, Founder & CEO, Vigyanshaala International 
Session 6 on Feb 19, 2022 @ 9 PM IST: Panel Discussion on "Undergraduate Research Mentorship in India"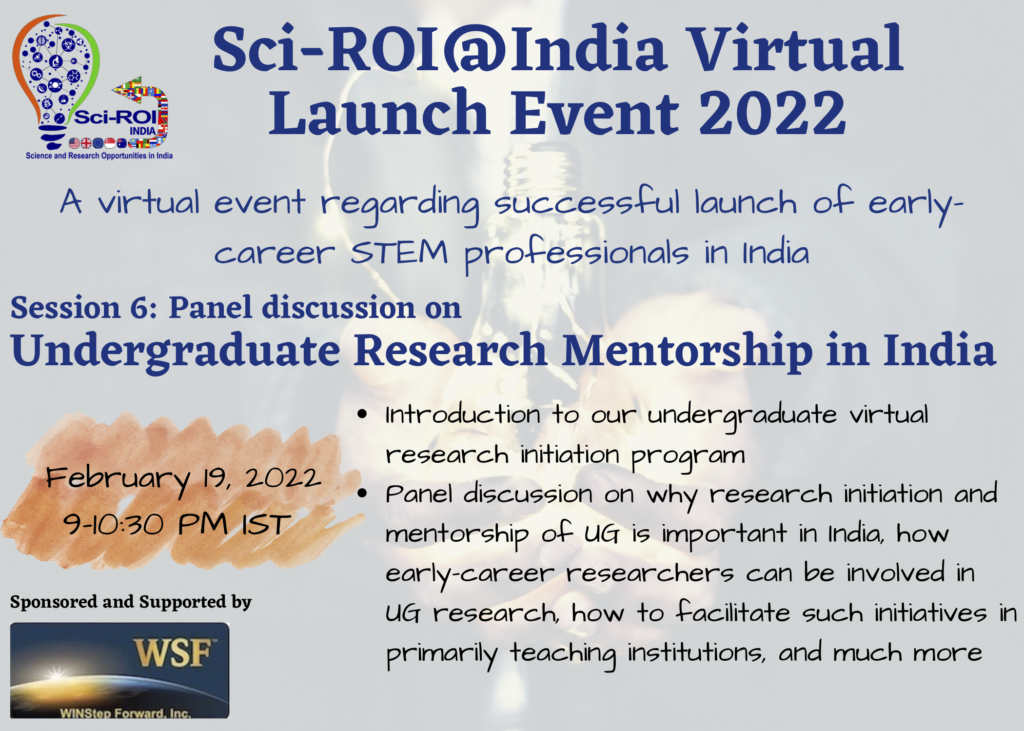 Panelists for the session:
Dr. Urmila Kulkarni-Kale, Professor, SPPU, India
Dr. Jayanth Vyasanakere, Assistant Professor, Physics, Azim Premji University
Dr. Kanineeka Sinha, Associate Professor, Maths, IISER-Pune
Dr. Lakshmi Revathi Perumalsamy, Assistant Professor, Biomedical Sciences, Sri Ramachandra Institute Of Higher Education and Research
Dr. Sheeba Vasu, Convenor, JNCASR SRFP-2020 & Associate Professor, Nueroscience, JNCASR