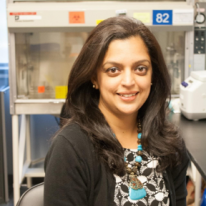 Karishma Surendra Kaushik
Assistant Professor
University of Pune
https://www.karishmakaushiklab.com/
Dr. Karishma S. Kaushik is a Physician-scientist who did her MBBS from Maharashtra University of Health Sciences, MD in Clinical Microbiology from Armed Forces Medical College, Pune. She chose the path to a research career and earned a PhD in Molecular Genetics and Microbiology from University of Texas at Austin, where subsequently she served as an Assistant Professor of Instruction in Biology for some time. She returned to India as a Ramalingaswami Fellow in 2018 and established her research group at the University of Pune as an Assistant Professor. The theme of her research is "Human-relevant Infection Biology" that aims to bridge the gap between studying infectious disease models in mice and application of such research in humans. She uses wound infection 'on a chip' platform to get insights into complex microenvironments that influence wound healing and infection.
As a speaker in Sci-ROI 2020, She will share her insights on her transition to a faculty position in India and her unique experiences as a clinician-scientist.