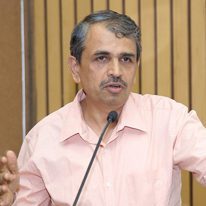 L S Shashidhara, Ph.D.
Dean of Research and Professor of Biology,
Ashoka University.
https://www.ashoka.edu.in/faculty#!/l-s-shashidhara-617
http://www.iiserpune.ac.in/~ls.shashidhara/
Prof. L S Shashidhara is a Distinguished Professor at Ashoka University. He is currently on lien from IISER Pune. He specialises in Genetics, Molecular Biology and Evolutionary biology. His group has identified key mechanisms that specify organ development and regulate growth control in Drosophila. They have also expanded their study to examine the status of these evolutionarily conserved mechanisms in epithelial cancers in human.
Prof Shashidhara did his undergraduate and post-graduate studies at the University of Agricultural Sciences, Dharwad, India and holds Ph.D. from the University of Cambridge, UK. He started his independent research career at the Centre for Cellular and Molecular Biology (CCMB), Hyderabad as a Scientist and Group Leader, where he built a strong developmental biology group. Following that, he moved to IISER Pune and contributed to its growth since its inception.
Prof Shashidhara has served in the past as Vice-President of Indian National Science Academy (INSA) and Secretary General of the International Union of Biological Sciences (IUBS). He is currently the President of IUBS (first Indian to be elected in its 100 years of glorious history). He has represented India in several delegations and international platforms. He is steering an international project on Climate Change Education. Recently, he was invited to speak about Climate Change Education at the High Level Political Forum 2019 (HLPF 2019) at United Nations.
For his contribution to basic and applied biology, Prof Shashidhara is recognized with CSIR Technology and SS Bhatnagar Prizes and JC Bose National Research Fellowship. He is a Fellow of Indian National Science Academy; National Academy of Sciences, India; and Indian Academy of Sciences. In 2018, Prof Shashidhara was elected as Associate member of European Molecular Biology Organization (EMBO), an international recognition for excellence in research in life sciences.
Prof. Shashidhara has served/is serving as Chair/co-chair/member of various apex committees of Government of India and S&T organisations, particularly those dealing with education, basic/applied/translational research funding, innovation, policy, international relations and outreach. He has developed and implemented several teachers' training programs of MHRD. He has facilitated training of more than 10,000 school and undergraduate teachers in adopting inquiry-based teaching methods. In addition, he has organized several alternate career workshops for scientists, particularly women scientists, in science journalism, science policy, administration and management that have benefited more than 300 scientists from across the country.