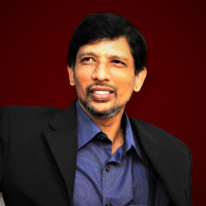 Prof. Raghu Raman
Chairman, Amrita School of Business
Director, Center for University Rankings & Strategy
https://www.amrita.edu/faculty/raghu
Prof. Raman holds an MBA from Haas School of Business, UC Berkeley and is the recipient of President of India gold medal. He serves on the board of director for Amrita Technology Business Incubator, is a member of the standing committee, National Mission on Education through ICT (NMEICT) and is the past chair of IEEE Education Society Chapter, IEEE India Council.
Under Chancellor AMMAs direct guidance, Prof. Raman has put together an outstanding MBA & Ph.D. program that develops socially responsible leaders. At Amrita School of Business world-class faculty from Wharton, Kellogg, IIMs, Berkeley, IITs, Harvard, XLRI, Cornell and others inculcate leadership qualities in students. The school is a member of AACSB International, a gold standard for Business Schools world over. As Principal Investigator for multiple research projects, Prof. Raman, has raised over $3.2m in research funding leading to over 50 publications and has several patents filed.
Prof. Raman has over 30 years of executive management experience with Fortune 500 companies including 15 years at Amrita. As CEO of Amrita Technologies, Prof Raman led a healthcare technology start-up that developed a patented and CCHIT certified Electronic Medical Record (EMR) System with global customer base. As an Entrepreneur-in-Residence at NEC Research Labs USA, he was instrumental in identifying multiple technologies for commercialization, raising over $26m in venture funding leading to new start-ups. Formerly, he was the Executive Director of Product Development at IBM, where he provided product leadership with an annual budget of over $8m.