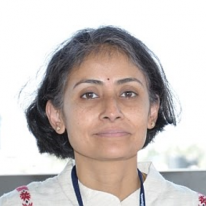 Sudha Rao, Ph.D.
Founder, Dhiti Omics Technologies | Co-Founder, Genotypic Technology Pvt. Ltd.
https://www.linkedin.com/in/sudha-rao-ph-d-3437794
Dr Sudha Narayana Rao holds a Ph.D. in Biotechnology from Madurai Kamaraj University, Madurai. She has completed her Post-doctoral research in Neurobiology at the Medical Center in Cornell University, New York and subsequently worked as consultant neurobiologist for QBI Enterprises, Israel. She has to her credit several publications in peer-reviewed journals.
Dr. Rao has over two decades of experience as a researcher and entrepreneur, having co-founded one of India's oldest genomics firm, Genotypic Technologies in the late 90's. She successfully pioneered Genomics as a service in India with the motto "Genomics simplified". Her endeavour in setting up a world-class organisation in Genotypic bore fruit when for the first time, a genomics company was awarded the SAP ACE 2010 award for Customer Excellence and Best Run Business for having the foresight to leverage software as a service model to support rapid growth.
Dr. Rao's recent venture is Dhiti Omics Technologies, which provides molecular diagnostic services, leveraging some of the most experienced researchers and experts in the field of genomics, healthcare and technology.