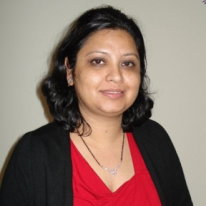 Vandana Gambhir, Ph.D.
Principal Technical Officer (Grants), IISER Pune
linkedin.com/in/vandana-gambhir-774a928
Dr. Vandana Gambhir is currently the head of the grants office and the IPR cell at the Indian Institute of Science Education and Research (IISER) Pune. She has over 8 years of experience in grant writing and management in the Indian scientific sector.
Dr. Gambhir obtained her Ph.D. degree in Microbiology, Cell Biology and Immunology from the Institute of Microbial Technology in Chandigarh, India. After her post-doctoral training at Queen's University, Canada, she returned to India and initiated her career in grants management as a grant advisor for Wellcome Trust- DBT India Alliance in 2012. In 2015, she joined IISER Pune as a grant and IPR manager and then became the head of the office in 2017. Apart from being an expert in grants management, she has also obtained a diploma and certificate in patent law.