Did you love science and math and also enjoy creative writing and art back in your school days? Did this creative side eventually fade away as you pursued an academic path in STEM? Do you want to rekindle your passion for writing and art and hone these skills to pursue a successful career in science communication? Then Sci-ROI's webinar 'Crafting a career in science communication in India' featuring amazing science communicators and illustrators is for you!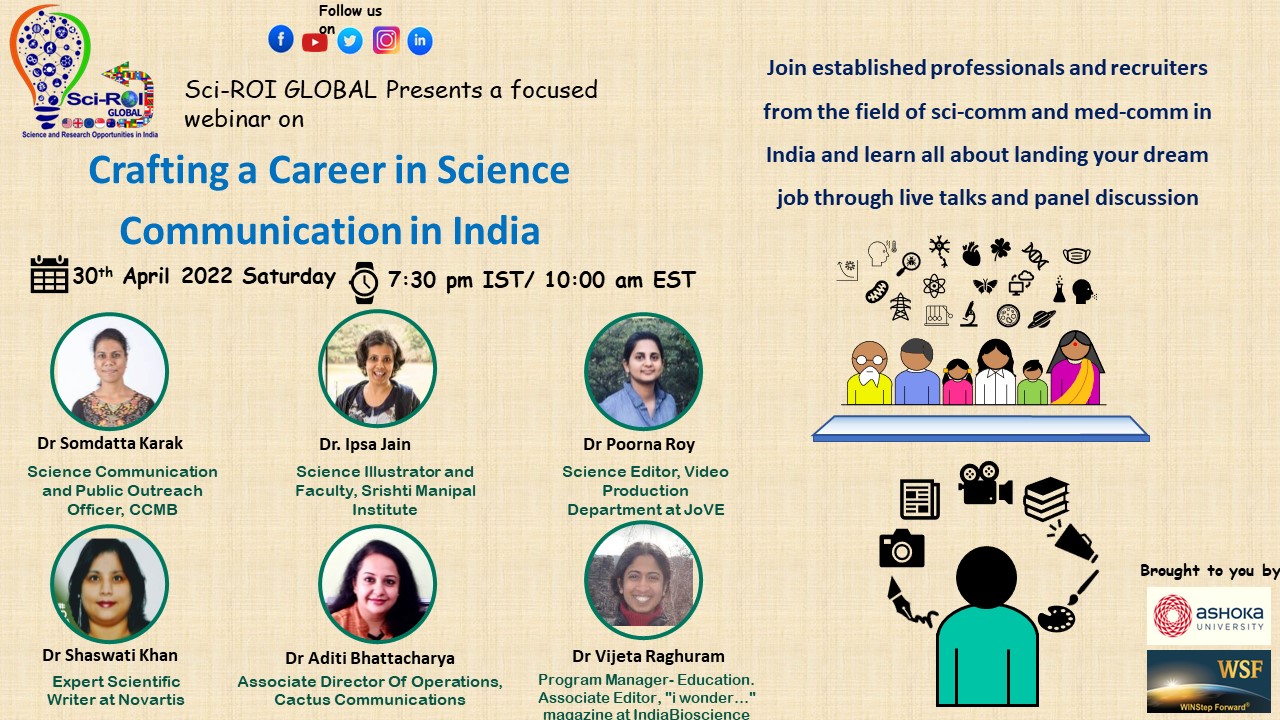 In this webinar each speaker shares their science communication journey, and you will find insights and advice that will help you launch your own career. If you are short on time, read on for some key points and suggestions from the speakers that we have curated for you!
Dr. Ipsa Jain, Science Illustrator and Faculty at Srishti Manipal Institute of Art, Design and Technology, Bengaluru.
If you have enjoyed drawing diagrams of specimens and infographics for your biology courses, science illustration is a career you will enjoy!
Zines or small-scale self-published science illustrations and stories can be a great medium to start circulating your work. Checkout Dr. Jain's illustrations
It is necessary to diversify your portfolio i.e. use different media, work on different projects, and collaborate with different people whenever you get an opportunity. Collaborating can be a very rewarding experience for beginners.
If you want to freelance, focus on building your social media presence and networking. If you are just starting off, begin locally.
Teaching is a great way to share knowledge, learn and hone your communication skills. If you are presenting at conferences, creating visuals that simplify complex scientific concepts can be a great way to engage with a broader audience.

Dr. Shaswati Khan, Expert Scientific Writer at Novartis, Hyderabad.
Scientific writing is the art of communicating your scientific results!
Informational interviews with people in roles that you would like to have can be very useful. Dr. Khan highly recommends networking on LinkedIn.
If you are transitioning from academia to industry, it is important to familiarize yourself with the organizational structure, the writing process, and the target audience in an industry setting.
Skills like strategic thinking, people management, project management are critical and will determine your roles and responsibilities in the biopharmaceutical industry.
The key to success in scientific writing is to keep an open mind and learn quickly on the job.

Dr. Somdatta Karak, Science Communication and Public Outreach Officer at Centre for Cellular and Molecular Biology, Hyderabad.
If you enjoy communicating your complex research to a non-expert audience, you will enjoy a career in science communication in the educational space! Opportunities in science education exist outside of traditional academic teaching as Dr. Karak has elaborated in the webinar.
Role of a science communicator can involve content creation, development of education platforms, implementing programs, finding appropriate partners, and training other science communicators. Checkout some of the work Dr. Karak does in her current role at CCMB (young innovator programs, superheroes against superbugs, etc.) !
You can find similar positions in science research institutes, science museums, science education organizations, and science policy think tanks.
Outreach opportunities at research institutes like open days, study tours and thematic talks can be a great way to get started and engage in science communication.
Utilize career-exploration opportunities available at your current academic institution.

Dr. Poorna Roy, Science Editor in the Video Production Department at JoVE, Kanpur (Remote)
Creating audio-visual educational content, animated videos and storyboards, writing narrations, content editing and managing teams are some of the things you will do as a science writer and editor.
You can gain science communication experience by editing manuscripts, thesis or grants not only for yourself, but also for your lab mates, peers and research advisor. Thesis writing workshops offered at some institutions can be a great place to get started.
Utilize online resources like Coursera to acquire science communication skills that traditional coursework does not teach you. Dr. Roy found 'Writing in the sciences' offered by Dr. Kristin Sainani on Coursera helpful.
Make short CVs tailored for the position and highlight transferable skills from your academic education with a very brief description of research and publications. In the webinar, Dr. Roy shares some crucial tips for the job search process.
It is important to be prepared for salary negotiations once you get the job. While having a realistic expectation is important, do not undervalue yourself!

Dr. Aditi Bhattacharya, Associate Director of Operations at Cactus Communications, Bengaluru and Dr. Vijeta Raghuram, Program Manager – Education, IndiaBioscience, Bengaluru, bring in a recruiters perspective into the panel discussion and some of the key take-aways are
India produces one of the highest numbers of STEM graduates and the boom in science and medical communication offers employment opportunities for in government, non-profits and industries.
Recruiters value transferable skills like communication, collaboration, organization, project management, time management, critical thinking and knowledge about the research enterprise.
In an industry setting you can climb the ladder, and promotions are often fast-paced for productive employees. Salaries can be significantly higher in for profit organizations.
Freelancing can be challenging when you start out, but it can be more rewarding and offer greater flexibility as you build your portfolio and clientele.
Do check out the full webinar here, in case you missed it!
Blog by guest writer
Kadambari Vijay Sai
Undergraduate student in Biotechnology
Alagappa College of Technology
Anna University, Chennai, India

Sneha Das
Ph.D. Candidate, Microbiology
University of Illinois at Urbana-Champaign, USA
Edited by
Vineet Arora
Postdoctoral Associate | The Scripps Research Institute, Florida
Rohit Vaidya
PhD candidate | University of Illinois at Urbana-Champaign