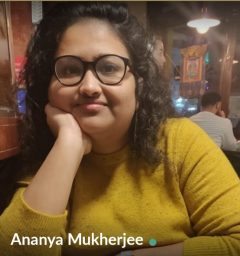 Ananya Mukherjee Ph.D.
Postdoctoral Researcher
University Of Nebraska, Lincoln
Social Media, Blogs at Sci-ROI
I am a botanist and biochemist by training. I used to work on photosynthesis in green algae and manipulating crops to manage food shortage. Currently I work on small RNA mechanisms to understand neurodegenerative diseases better. I learnt about Sci-ROI from some colleagues and attended the 2020 virtual meeting. The plethora of information was astounding and it was amazing to see a community geared towards helping us transition to India. The diversity of topics being discussed was also something worth appreciating- from academia to industry and non traditional careers. It was amazing to be able to ask questions and interact with scientists in India who have also transitioned recently. I joined as a volunteer in feb 2021 and kickstarted the instagram account. I also assist in SciROI Blogs.