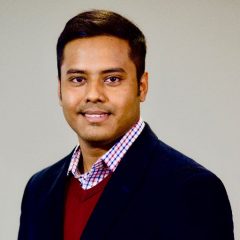 Arkadipta Bakshi, Ph.D.
Research Associate, Dept. of Botany,
University of Wisconsin, Madison
Social Media, Video Editing at Sci-ROI
I am a plant molecular biologist by training. My PhD dissertation was focused on the molecular responses of Arabidopsis thaliana to ethylene signaling and currently in my postdoctoral work, I am exploring ways to grow different kinds of plants in the outer space microgravity environment. When I am not in the laboratory, I can be found on the stage performing in plays/theatre or in traditional Indian musical and cultural shows. I got to know about Sci-ROI from last year's virtual conference and am working as a volunteer from Jan-2021. My primary role in this organization is to help in the video editing team and present informative as well as exciting videos for Sci-ROI's social media platform. I am really looking forward to a productive year ahead with our wonderful team of Sci-ROI.