Sci-ROI (Science and Research Opportunities in India) strives to serve as a gateway for early-career Indian STEM professionals abroad to transition back to India successfully. The annual event has been the flagship event of Sci-ROI for the last seven years, bringing together opportunities from various research fields and career avenues under one umbrella. We continue the tradition this year, with the eighth edition of the annual event.
The 8th annual event which will be in-person after a long break due to Covid, will involve various organizations in India interacting with the attendees about the job opportunities available for them to offer, in academia, and industry as well as non-traditional career options, such as science communication. The annual event will also include lightning talks by participants who wish to show their work to experts to get feedback about tailoring their work to fit into the Indian scientific ecosystem, which will be useful to all attendees.  So make sure to register for the annual event so that you do not miss out on all these exciting programs! Registration is open now.
Some highlights:
Talk by plenary speakers who will share insights on research opportunities in India
Engaging panel discussions on a diverse range of leading topics
Networking sessions to connect with peers and professionals
one-on-one interaction session with recruiters from leading institutions in India
Posters and lightning talks for you to show your research
Exclusive Virtual Session in November:
In November, we have a special treat exclusively for our in-person attendees. Eminent speakers who couldn't join us in Memphis due to travel logistics will interact with the attendees virtually. This virtual session promises to be enriching and informative, offering you even more opportunities for learning and networking.

List of the confirmed speakers
8th Sci-ROI Annual Event 2023 Schedule
One-on-one interaction session will take place on both Day 1 and 2 parallel to the main sessions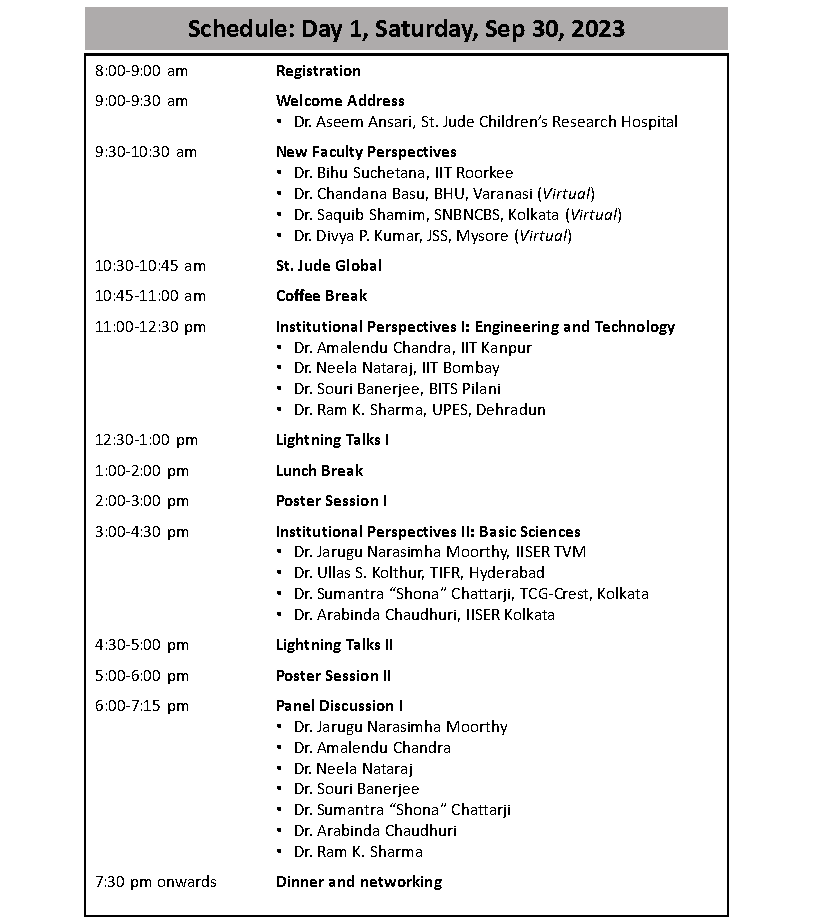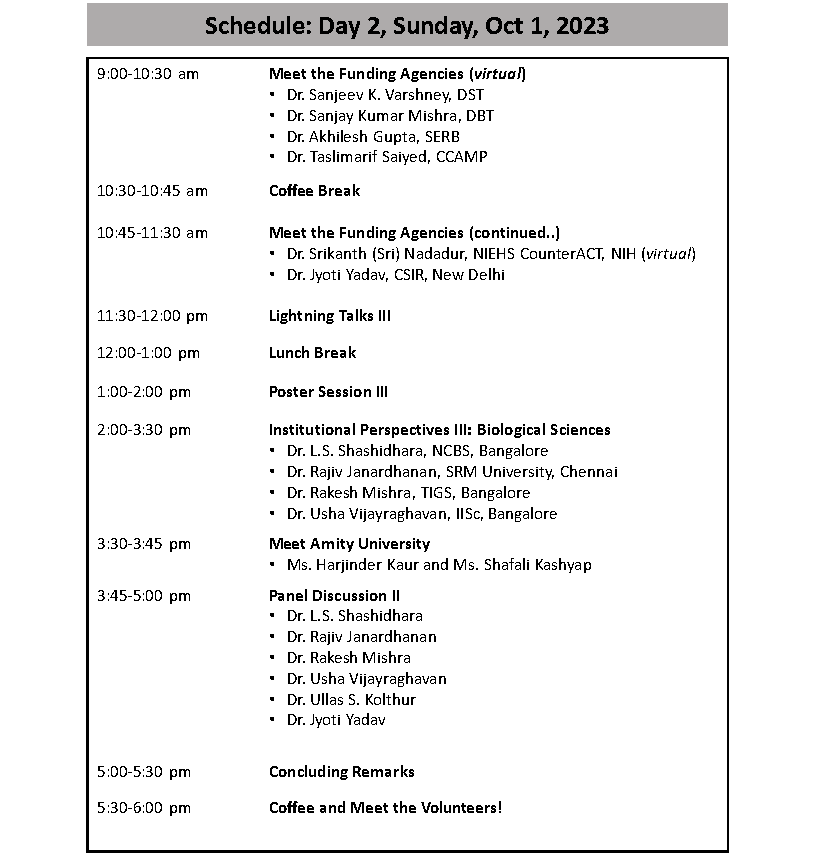 8th Sci-ROI Annual Event 2023 Schedule
Accommodation
There are several accommodation options conveniently located near St. Jude's campus in Memphis, Tennessee. We have secured a special discounted rate (approximately 35% off) at one particular hotel. Here are the details:
Hotel: Sheraton Hotel (3 minutes' drive from St. Jude)
Discounted Rate: $157 per night (includes breakfast for 2 people) before tax
Booking Instructions: If you're interested in reserving a room at this hotel, kindly contact us at research.ops.india@gmail.com immediately after completing your registration. Due to high demand, we have a limited number of rooms available. We recommend reaching out as soon as possible after your registration to secure your spot.
There are other hotel options nearby that you might look into: Crowne Plaza (2 min drive), La Quinta by Wyndham (5 mins drive), Holiday Inn (5 mins drive), Hotel Indigo (4 min drive), Comfort Inn (5 min drive).
Transportation
Public transportation: Memphis has pretty good public transportation. It is covered by Memphis Area Transit Authority (MATA) (https://www.matatransit.com/). There are bus and trolley train services that are economical to transit around the city. However, during weekends the frequency can be low.
Uber and Lyft: Uber and Lyft are other safe options to transit around in the Memphis area.
Walk: Walking is not recommended during the night or on weekends for safety concerns.
Weather & Attractions Nearby
The weather is moderate during September. The highs are around 26-32 °C while lows are around 15-20 °C. There is a 20-25% chance of rain during September.
Use the following links to find places nearby to visit during your visit:
https://www.memphistravel.com/tourist-attractions
https://www.tripadvisor.com/Attractions-g55197-Activities-Memphis_Tennessee.html
https://travel.usnews.com/Memphis_TN/Things_To_Do/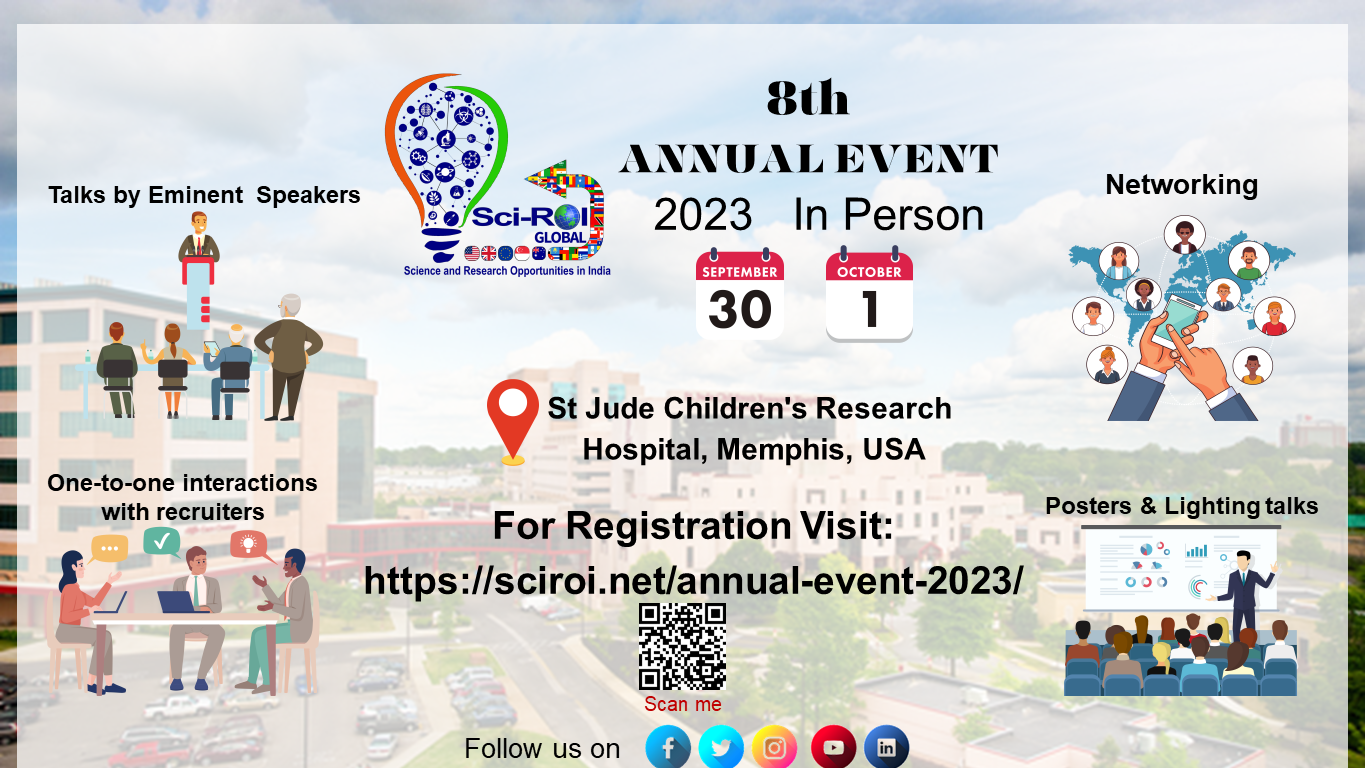 Frequently Asked Questions
I am unable to register or the "forgot password" is not working
If you are using your Gmail address that was used earlier in the recruitment-drive portal and you forgot the login credentials, sign up using your same Gmail address adding a period (.) or plus sign (+). For example, if the email address is "xyz@gmail.com" then modify it as "xy.z@gmail.com". This will not affect our ability to contact you through Gmail address.
Where is the registration page?
The registration page for the Annual Event can be accessed through https://sciroi.net/annual-event-2023/registration/
Will there be spot registration?
Unfortunately, we will not be able to provide the spot registration as the security pass will be issued from St. Jude in advance.
What is Sci-ROI's role in the 1-on-1 interaction session?
Sci-ROI is a not-for-profit organization that addresses the disconnect experienced by #Indian #STEM professionals abroad for diverse opportunities in India. The Sci-ROI team contributes to this vision by offering a platform, such as 1-on-1 interactions, where various stakeholders can engage with each other. Over the years, we have excelled in organizing various events that have benefited a large number of early career professionals and some of them have become part of our SciROI India network.
What is the benefit of 1-on-1 interaction session organized by the Sci-ROI with various Indian institutions/organizations/companies?
The primary advantage of participating in a one-on-one interaction session is that candidates have the opportunity to directly learn about the specific requirements of available positions from the relevant authorities in person. This provides attendees of the annual event with a distinct advantage in preparing for their future endeavors. While information about the available opportunities can already be accessed on our job portal webpage, the in-person interaction allows for a deeper understanding and personalized insights. Moreover, our annual event attendees gain the additional benefit of building new professional networks, creating potential for future scientific collaborations.
When can I see the professional interest of participating institutions?
Once you register for the annual event, you will log in to the portal and will see all the participating institutions and their professional interest. In addition, you will find the link under each institution to register your interest to interact with them.
When is the last date for getting a confirmed list of participating institutions?
As more and more institutions want to take advantage of the annual event, we suggest visiting the annual event webpage to stay updated. The final list of participating institutions will be available by the 5th of Aug.
After submitting my CV and summary to the profile, do I need to register for each participating institution individually?
As per your interest, you would need to register for each participating Institution of your choice.
Sponsors